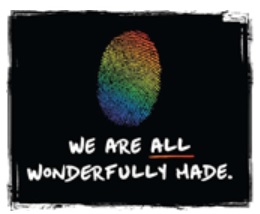 The month of June is traditionally devoted to the Sacred Heart of Jesus which for Catholics, is a sign and symbol of God's boundless and passionate love for all humanity. The month of June is also PRIDE Month. This like, and each and every month, our school community is committed to nurturing safe learning environments where every student and every member of the community is welcomed, valued and respected.  As Catholics, we believe that we are all created in the image and likeness of a God who created us and loves us unconditionally – just as we are. We are called to know, love and celebrate one another,  just as God knows. loves and celebrates each one of us because we are wonderfully made. We honour the inherent dignity of each other by treating one another with sensitivity, compassion and respect. We do not judge or condemn.
This month, we ask for the intercession of our Blessed Mother and our patron, St. Jean de Brebeuf, as we keep the 2SLGBTQI+ community in our prayers:
God of all love,
May we be reminded of the awesome love you have for each one of us.      Help us to leave behind the hurt that we have endured because of cruelty from others.                                                                                                                            May we cling to the assurance of Your love for us;                                                      A love that is never-ending.
Let us celebrate the unique gifts that have been given to each of us for our common journeys in life.                                                                                                   You, O God, formed us in our mothers' wombs.                                                       You consecrated us and appointed us to be a prophet among the nations.   
All of us have been created for a purpose,                                                                       to be in relationship with our loving You and with one another.                      You love us all so much that even the hairs on our heads have been counted.  You see our paths clearly and know first-hand the struggles that life can bring to us all.
 Help us to be a people of love and acceptance.                                                       May we do away with the harsh word and the clenched fist.                           May your will be done on earth as it is in heaven.
 Amen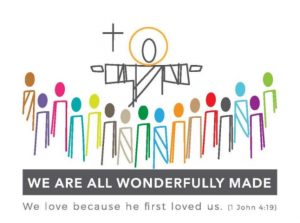 (Adapted from The Institution for Catholic Education – Affirming our Commitment to Equity, Diversity and Inclusive School Communities)